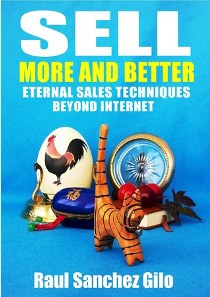 Discover how to sell more and better in an entertaining way.
Whether you are a beginner in sales or an expert, this book will inspire and motivate you to improve and succeed in selling.  Discover the authentic way to sell more and better.
Who said that all books about sales are boring? Finally, a book on the art and science of selling that is funny, easy and fast to read. A mix of fiction and nonfiction which will help you learn the main concepts and fundamentals of selling. A trip to the past to discover the surprising relations among  the main concepts and keys of selling, full of principles, ideas and much humor.
You are not able to sell more? You don't know how to win more and better customers? How to get their loyalty? This literary experience answers your questions.
Start now to differentiate yourself, download the book now and get results today!