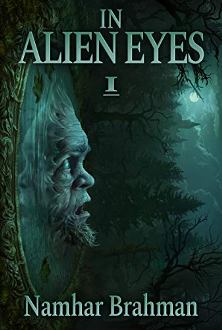 Do you know what a virus may be thinking? Read Virion, a short story from this collection.
For everyone who loves an unconventional voice, and a postmodern blend of philosophy, drama, and humor.
Twelve different settings. Twelve unique worlds. Twelve nutshell-brief answers to eternal questions.
Meet the magic lady of a crystal-pure lake hidden in the woods: she will need your truth, but even more your fantasies. Fight otherworldly creatures for your life in the great Arena. Race your demiurge brothers to craft a perfect species.
…and do many more in following the protagonists on their crazy adventures. Get your lightbulb moments, and be swept off your feet by sudden twists.
Turning the last page, you will probably look up, wondering silently: WHAT WAS IT?
It was In Alien Eyes by Namhar Brahman. As precise as a katana strike. As thin as ice in November. As extraordinary as a collision of comets. If you are a fan of Love, Death & Robots, Black Mirror, Rick and Morty, then you will truly enjoy this collection!