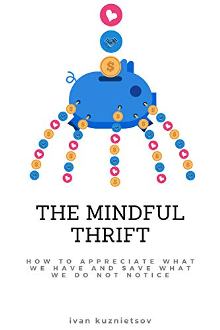 THE FIRST BOOK ABOUT THE RESEARCH OF THE INTERRELATION OF MINDFULNESS AND THRIFT
"Life is gracious, but sometimes it hurts. There are always good people nearby, but loneliness is felt. Everyone knows the feeling when everything is there, but still, something is missing. So maybe the matter is in our perception? At the same time, we are used to achieving the best for ourselves, but we forget to take care of what we already have. Striving for the best is good, but sometimes it is more important not to lose what we have at the moment. Otherwise, life turns into running around in a vicious circle. It applies not only to everyday issues but also to work. I was fortunate enough to work as a World Class Manufacturing (Lean) Instructor at one of the largest enterprises in the world — this is also reflected in this book. And if I can make even a small contribution to our society, then my work has been done not in vain. I will not speak pathos about 'how to make the world better.' I will only say, 'Let's make ourselves better, and the world will not stand aside.' It always happens." — Ivan Kuznietsov
Change is work on yourself. But how can we change? The author suggests basic and accessible practices for making changes in your life. The most important is to realize what we do as often as possible. Between situation (what happens to us) and action (what we do about it) is always a perspective to choose. And what we do with that space ultimately determines our growth. Fortunately, we can make that choice mindfully and our actions — thrifty. But what do mindfulness and thrift have in common? In fact, these two qualities are deeply interconnected, and you can make sure that it is true.
The book will tell you in a simple word about:
1) The general concept of mindfulness and thrift as human qualities and why are these so important in our lives;
2) How mindful and thrifty people first became a fundamental factor in business success and what can we learn from them;
3) The Mindful Thrift Practical Method that will help you be mindful of whatever you do and will train how to make life more thrifty;
4) Also, stories from life, parables, quotes, interesting facts, and useful tips waiting for you — these are the tools that will help you better immerse in the atmosphere of reading.
*As a bonus, you will find an additional chapter, Before Go to Practice in the book. Enjoy reading!*