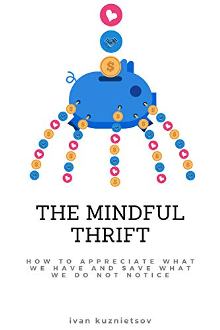 Meet the first book in the Mindful Moments Collection series!
All books in this series are devoted to different aspects of mindful life from the Ukrainians point of view, complement each other, and can be read in free order. Ivan Kuznietsov in The Mindful Thrift book suggests basic and accessible practices for making changes in your life. The most important is to realize what we do as often as possible. Between situation (what happens to us) and action (what we do about it) is always a perspective to choose. And what we do with that space ultimately determines our growth. Fortunately, we can make that choice mindfully and our actions—thrifty. But what do mindfulness and thrift have in common? In fact, these two qualities are deeply interconnected, and you can make sure that it is true.
The book will tell you in simple words about:
1) The general concept of mindfulness and thrift as human qualities and why are these so important in our lives;
2) How mindful and thrifty people first became a fundamental factor in business success and what can we learn from them;
 3) The Mindful Thrift Practical Method that will help you be mindful of whatever you do and will train how to make life more thrifty;
4) Also, stories from author life, parables, quotes, interesting facts, and useful tips waiting for you—these are the tools that will help you better immerse in the atmosphere of reading.
The exclusive bonus of this book: You will find an additional chapter, Before Go to Practice, which will lead you to positive actions.
It is straightforward and, at the same time, is the most crucial goal—to focus on how to benefit people. Click on the "Buy Now" button, and after reading this book, you will get incentive and motivation for a mindful life. Enjoy reading and learning!