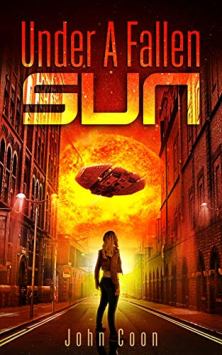 Paige is on a desperate quest to find her missing brother Todd. She has convinced her boyfriend Jason and their friends Heather and Rich to undertake a road trip from Louisiana to Las Vegas along the same route where her brother vanished nearly a month earlier.
A broken down car forces them to seek help in Travis, an isolated West Texas town seemingly deserted from all outside appearances. But this is no ordinary ghost town.
Travis harbors frightening secrets. A mysterious energy barrier traps all visitors within the town. Signs of violent struggles are present in many buildings. And horrifying changes have overtaken the few surviving residents.
Their efforts to unravel the frightening mystery behind what happened in Travis brings the four friends face to face with an adversary from across the stars. An enemy they never knew existed has come to Earth. Now the fate of the entire human race could hinge on the survival of Paige and her friends.
Amazon best selling author John Coon delivers a captivating science fiction thriller that explores what it means to be human and the terrifying implications of humanity not being alone in the galaxy.