Monthly

Newsletter

Readers, Authors & Other Book Lovers

DECEMBER 2022  .  Issue No. 19
Featured Listings

 

High Clowder Cats

by Ruby Knight

Bushytail has made his own way n the world since he was a kit.  He has to avoid the humans and their noisy machines as well as being on alert for toms that may want to challenge him.  He joins up with a band of clowderless young toms. After being on his on for so long he is glad to have company, but this is just the start of the long journey Bushytail makes, along the way discovering who he is and how he fits into the world of cats.

 

The Healing

by Karen E Stokes

The journey begins when a spirit boy enters the lives of a mother and her young son following the discovery of a photograph within the pages of a secondhand book bought from a local market stall.  The indomitable entity forms a seemingly innocent friendship with the boy before wreaking havoc within the family home.

With the help of psychic intervention, the quest began to uncover the reason behind the ghostly interception, unearthing further conflict and uncertainty.  

 

Pathways to Peace

by Dianne Willging

Stress and anxiety are part of our daily life and can affect the way we live. With this book, author Dianne Willging has collected visualizations that can be  integrated into your yoga or meditation practice.  Visualization is a form of meditation that has proven over time to reduce anxiety, decrease negativity, as well as foster courage, creativity, and a sense of purpose. Using the exercises in this book will improve your overall sense of well-being and promote the health of body, mind, and spirit.

 

The Indo-Pakistani War

by Ted Halstead

New Release: November 12, 2022

Russia has learned that the theft of two Pakistani tactical nuclear missiles will be used to spark a nuclear war between India and Pakistan. And that's a problem. Because Russia's invasion of Ukraine has left it with just two friends among the world's leading countries. China and India.

Years ago, Russia secretly promised India support if China or Pakistan attacked it with nuclear weapons.

Much more recently, Russia made another secret promise, this time to China. That if nuclear war ever broke out between India and Pakistan, Russia would support China's ally, Pakistan.

 

DELIVERED BY A QUEEN

by Cynethea Cunningham

The book of Esther tells the story celebrated at Purim of how the young Jewish Queen Esther risked her life to save her people from destruction through a plot laid by wicked Haman, advisor to the Persian King Ahasuerus. God in His Divine Providence turned things around, and the day set for their destruction became a day of celebration. Even though His name is never mentioned, God is present and actively working behind the scenes, arranging every event to bring about His divine purpose for the salvation and preservation of His chosen people, the Jews.

 

DARK ENERGY

by Tom Boles

Brad Willis is an unlikely investigator, and an even less likely spy. He is a scientist, not a hero, but when it comes to finding technical solutions, there is none better. That's how MI6 uses him; that's how he lands himself in trouble.

Members of the scientific community around the world are being systematically murdered, and for no obvious reason. Who is killing them and why?

That is until Willis uncovers a mystery. A discovery has been made but not reported by the largest research facility in the world. Why should that be? Why would someone want it hidden?

 
Free Books & Deals *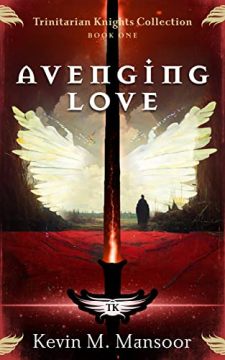 Avenging Love by Kevin M. Mansoor
Free on Kindle Store (Amazon).
Click here for more details.
New Releases
October 2022
by Basil Turturro
Non Fiction > History
September 2022
by S.M Thomas
Fiction > Mystery & Thrillers
August 2022
by Verne Nesbitt
Non Fiction > Religion & Spirituality
by Bill Conrad
Fiction > Action & Adventure
humanmade.net News
We have availed a special form for updating authors and books pages. Now you can request update / edit / removal for your books and author profile pages easier than before.
Check out Update My Pages for more information.
Monthly Digest
by Martin Bodek
Fiction > Humor
by Antoinette McCormick
Fiction > Horror & Paranormal
by Antoinette McCormick
Fiction > Mystery & Thrillers
by Chantal Bellehumeur
Fiction > Horror & Paranormal
Looking for an Excellent Self Publishing Platform?
Join Draft2Digital
and Get FREE Formatting, Publishing, Promotion Tools and Sales Tracking. All in One Place!
* Free Books & Deals were valid at the time of issuing this newsletter, humanmade.net is not responsible for any cancellation / change of these deals after that date.