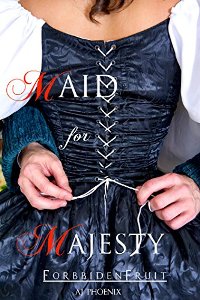 The King's love is fickle; he's gorgeous, intelligent and has power beyond the average man. He doesn't have to be kind. He can give a glance or a smile and women will fall to their knees. Being by his side makes you the most powerful woman in the world. But the moment he tires of you, or you become an inconvenience, you are nothing, no one.
I've heard of his reputation. He has left a trail of shattered hearts across Europe.If there will ever be a woman to win his heart, they'll need to know his mind first..." When cunning servant Madeline Black helps her mistress throw a party, she meets King Alexander, a seductive royal who can't keep his eyes off her.
Then, she is sold by her mistress and whisked away to Buckingham Palace to be apart a royal servant staff. Though she knows his reputation and tries to focus on her duties, she constantly finds herself in his presence. Unable to resist, she is soon succumbing to her desires in every corner of Windsor and Buckingham.
But, as Napoleon moves across Europe, Princess Sofia of Spain takes refuge at Windsor and the pressure for Alex to marry her is high. Nonetheless, they continue to sneak around to enjoy the pleasures of their trysts. Despite their need for each other, can their relationship survive the society they live in?