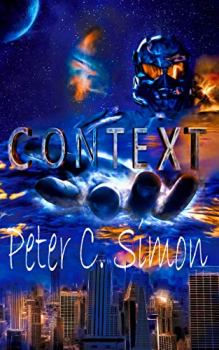 What is the meaning of life? Why are we here? What is it to be human? What is existence? What does it feel like to control the human species? Peace is the impossibility that these lovers are risking their life and sanity to pursue. The heroine all but rules earth, the hero fights amongst the stars. Only their love can save humanity.  These secret letters traversed light years. In these lovers' letters are the secrets of the universe, of life, and our extinction's shield.
At first glance this book appears to be like every other science fiction story:
A hero leaves his home behind so that he can protect the one he loves from an enemy that means to exterminate the human race. There is even the heroine that remains behind and does her part for the cause. While the hero suffers loss on the alien battlefields, the heroine is forced into a position of tremendous power. Both the hero and heroine struggle to adjust to the roles that were thrusted upon them by this interstellar war.
Yes, the themes found in this story are perhaps too familiar: letters of passion and fear sent between two star-crossed lovers, pain, despair, discovery, defeat & triumph. These are the themes you've seen before. At first glance this story appears to be like so many others, but only at first glance.
The hero and heroine are just doing their duty, just doing their part to keep the human species alive. Like every other person in this story, they are forced to adapt to the horrors that have become the norm. Like everyone else, their minds are strained, their psyche shattered, their sense of hope serving as both their fuel and shame. Throughout this story the hero and heroine perform as they deem best. This couple's endurance is rewarded by tremendous pain, crushing insights, and divine wisdom. In the end, these lovers discover truths that rip up the foundations upon which all modern mythologies have been constructed.
The stage upon which this book is set is the entirety of existence. Through the correspondences between this couple you will not only explore alien terrains and the opulent life, you will also travel across the infinite worlds that exist on both sides of death.
This isn't a story to go into lightly. This isn't a tale for those expecting the familiar. This is a book for readers that want more in their entertainment.