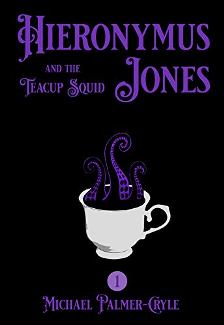 Hieronymus Jones was a strange boy, a hair past fifteen, tall and pale with jet black hair, dark brown eyes and a very peculiar kind of mind.
If he was not the smartest thing on the planet, he was a very close second. He had secrets, dark and terrible, wonderful and pure. Secrets of hidden worlds with lost people, that were not entirely human. Most unusually, he held secrets... of magic.When Hieronymus Jones saw Gertrude Green for the first time, he sat up a little straighter in his seat. She was an odd girl with a smattering of freckles across her pale skin, impossibly red hair and perfect green eyes. She too had secrets. Together they would discover a connection to each other, far deeper than either could have imagined.
Mysterious pendants, evil twisted mounds of monstrous flesh and school bullies are one thing, but when a small unimpressed squid makes a nest in Hieronymus's cup of tea, something clearly needs to be done. Honestly, this is TEA we are talking about, don't these creatures have any manners?
The first book in a fantasy romance series, awash with bleeding edge technology, magic, humor and hideous tentacle laden, Lovecraftian nightmares, that are coming to kill the world... woot.