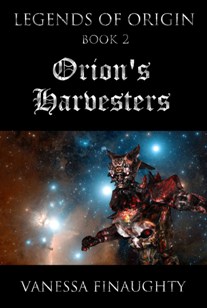 Two months after Liam MacAskill's return to Earth from Tridor Monastery, a portal opens in Orion's Nebula, and a continent-sized spaceship emerges. It heads for Earth, where it hovers over Africa. Shortly thereafter, a second alien species comes through the portal. Then impossibility becomes reality – the second species steals Earth's sun.
The first species, the T'Acan – or Harvesters, as some call them – seem friendly enough, but Liam suspects they are omitting something about their reasons for visiting Earth, which seem lame to him. It doesn't take Liam long to discover what… They have to be stopped, but how to stop an invincible enemy?
Air force and military attacks have no effect on the T'Acan spaceship, but Earth has a secret defence not even the military are aware of – a powerful weapon that harnesses ley line energy, kept hidden by warrior monks since humanity's beginnings. It could save Earth when even nuclear weapons would fail… but will it be enough to drive the T'Acan harvesters away, and will the untested weapon work the way they hope?
Will Liam succeed in aiding the warrior monks' efforts, or will he merely create more casualties? Is Liam's friend, Jack, right to distrust the little blue alien they meet on the T'Acan ship, or is Liam's trust going to be betrayed again? As Liam races against time to warn Arthean that Tridor's Earth may be in the same danger, even he isn't sure he'll make it in time.