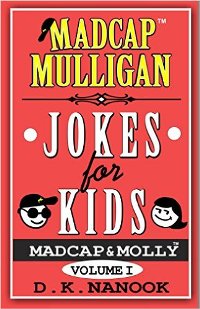 Madcap and Molly have kids laughing themselves silly with clean jokes. Madcap Mulligan Jokes for Kids is children's humor at its best with teachable moments about homophones and synonyms. Madcap Mulligan is helping children and adults bond through humor. Humor is a universal language and these jokes are also great for those learning English.  

Q: Did you hear about the tailor who got stuck in his measuring tape?  
A: He wanted to suit himself.

Teacher: If you could run a mile in a minute how many feet would that be?
Madcap Mulligan: I would need at least a dozen feet to go that fast.

Q: What did the big toe send the little toe?
A: A footnote.

These fresh original jokes have many adults laughing out loud too. Get your copy and start laughing!