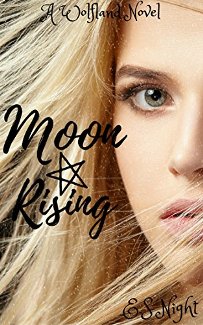 Moon Rising is the first book in the Wolfland trilogy, a series of paranormal romance/mystery novels. The following titles are Blood Ties and Silver Bullet. In the fall of 2016, Abigail Lawson is experiencing a string of recurring dreams.
The dream begins like every other night. She falls asleep imagining the white wolf and how she longs to hear the howls of his pack. On the twenty-third night, her dream becomes much clearer and the wolf suddenly transforms into a man, a man who gives her his name – Grayson Hale.
When Grayson and his strange family suddenly move to Abigail's peaceful Scilly Isles, I'm afraid her life will never be the same again. When she is repeatedly threatened by an unknown enemy and the bodies start to pile up, Abigail's small town becomes a place of fear and hostility. But, she still can't help being captivated by one young man in particular. Grayson is both compelling and dark, with his mesmerising eyes, one green and one blue, his Irish charm and superhuman nature. Up until now he has managed to keep his secret hidden, but Abigail is determined to uncover his true identity.