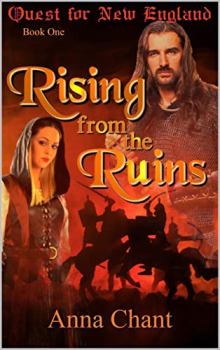 It's the 1070s.
Duke William is firmly on the throne of England.
Is there any way the Anglo-Saxons can escape his reign?
Based on a true story, follow a group of Anglo-Saxons as they start the Quest for New England...
Siward of Gloucester cannot be the hero England needs. Tormented by the disasters of the previous years, most of all he is haunted by the dying eyes of the man who saved his life.
Oswyth is one of the orphaned heiresses of Hastings. Resigned to the fate of marrying one of the conquerors, her hatred is focussed on Siward – the man she blames for her father's death.
However, when Oswyth's Norman husband arrives, her grandfather has other ideas. In a desperate attempt to keep his only remaining kin out of the hands of the hated invaders, he throws Oswyth and Siward together in an awkward marriage.
As Oswyth begins her new life, her contempt for her husband grows. Despite the warm welcome she receives from Siward's eccentric mother, she struggles to overcome her feelings, torn between her duty as a wife and her loyalty to the memory of her dead father.
Siward has other matters on his mind. He has learnt the Atheling, Edgar is returning to claim the throne. Filled with new hope, he rides north accompanied by trusty friends to pledge his allegiance to the one he considers the true King of England. If he fails, the price for his loyalty will be a heavy one.
But with the spirit of the English rapidly fading, Siward struggles to defeat his torments. Can he find the strength to build a new England from the wreckage of the old?