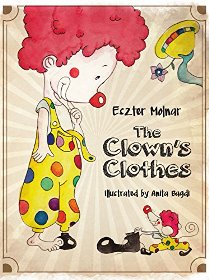 The Clown's Clothes is a children's picture book set in the magical world of a circus.
Meet a tightrope walker, a unicyclist, cheeky monkeys and various other circus performers and enjoy the stunning illustrations of Anita Bagdi.
It is nearly time for the big evening show and everyone is getting ready... everyone apart from Tommy the clown. He is still frantically searching the circus camp for his trousers, his hat and his right shoe! He can't possibly perform without his clothes!
Just what will he do? Will he find them in time?
Join Tommy and his friends to solve the mystery of his disappearing clothes.