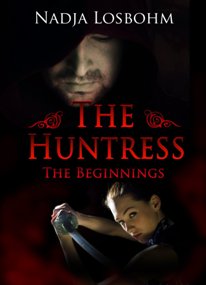 Ada Pearce is an average young woman. She is 5'4" tall, overweight, and doesn't play sports of any kind. Shortly after her 21st birthday a mysterious priest informs her of her destiny as a huntress. Ada doesn't believe that story at first, but when she finds out that creatures of the night threaten the human population, she accepts her destiny, gives up her former life, and moves into the secret rooms of St. Mary's Church, which had been built hundreds of years ago, and begins her training.

In flashbacks, the protagonist herself tells her story, beginning with her first meeting with the enigmatic and unapproachable priest, through her first year of training and her secret life, to the problems she encounters on her first hunt, and the issues which crop up when a priest and a woman live together…

The Huntress – The Beginnings: a charming mixture of science-fiction, fantasy romance and humor.