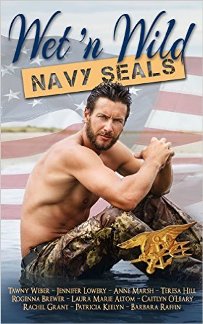 Seeking Bliss by Barbara Raffin
Former Navy SEAL Jake St. John's life is being exposed by novelist Bliss O'Hara. Jake demands she cease writing about his missions. But her looming deadline for book two forces them to work together editing out anything damaging to his Saint Security firm. Add kidnapping, the Illuminati, on-line gaming, and a foreign setting and you get a wild ride of gunfights, intrigue, and sexual tension.
Just one of the book included in Wet N Wild,
Get swept away by 10 hot Navy SEALs...
Whether you're looking for a little sizzle or a lot of steam, you'll find the hard-bodied, soft-hearted hero of your dreams on SEa, Air or Land in these sexy romance-packed novels and novellas brought to you by 10 of your favorite New York Times, USA Today and other award-winning and best-selling authors.
Limited Edition Boxed Set––Grab your copy today before it's gone!
Includes:
A SEAL's Proposal by Tawny Weber
SEAL It With A Kiss by Rogenna Brewer
Rogue by Laura Marie Altom
A SEAL's Song by Jennifer Lowery
A SEAL's Vigilant Heart by Caitlyn O'Leary
Withholding Evidence by Rachel Grant
Her Firefighter SEAL by Anne Marsh
Nobody's Hero by Patricia Keelyn
Hero Of My Heart by Teresa Hill
Seeking Bliss by Barbara Raffin