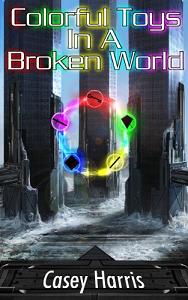 An innocent child, upon whom nothing less than the fate of humanity seems to depend, receives a dark, oddly shaped gift from a mysterious stranger. It is the first person other than her mother that she has met in years, the two of them having been forced into hidden seclusion after wars and civil collapse wrecked havoc on the planet, and after her father was assassinated for his role in trying to prevent it.
Now, they wait, and prepare, for the moment when she is old enough to return and take back the Trident, a collection of three massive farm towers, capable of feeding tens of thousands, though is used now only to maintain the power of men with no interest in philanthropy towards those who can give nothing in return.
Meanwhile, a boy who has spent much of his life within the comfort and safety of the Trident tries to change this from the inside. This is done by instigating the Lord Mayor and the rest of the population into letting him, under the close watch of the Mayor's son and Captain of the Trident Guard, Red Kylus, dispatch a relatively miniscule amount of the Trident's excess production capabilities into the surrounding city, known as Vera Domus.
Yet, as fate would have it, both of their ventures seemed to be doomed from the beginning, in a world where evil appears to roam freely, unbound by the rule of law or reason. As the gift turns out to be something quite different from a gift, as Red Kylus' rabid power lust is turned against the small, impoverished community outside of the Trident, and as day turns into night, all ideas of hope and justice seem to shrink away, like a wounded animal, until nothing remains.
Nothing, but the will to survive.