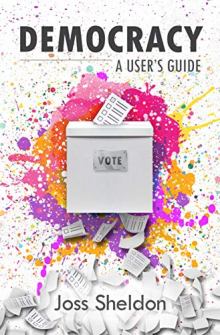 THEY SAY WE LIVE IN A DEMOCRACY. WE ARE FREE AND WE SHOULD BE GRATEFUL.
But just how "Free" are we? How democratic are our so-called "Democracies"?
Is it enough to simply elect our leaders and sit back, helpless, as they rule over us like dictators? What good is selecting our politicians, if we cannot control our media, police or soldiers? If we must blindly follow our teachers' and bosses' commands, whilst at school and in the workplace, is it not a little naïve to believe that we are the masters of our own destinies? And if our resources are controlled by a tiny cabal of plutocrats, bankers and corporations; can we honestly say that our economies are being run for us?
Could things not be a little bit more, well, democratic?
Indeed they can! "Democracy: A User's Guide" shows us how...
Within the pages of this story-filled book, we shall visit Summerhill, a democratic school in the east of England, before stopping off in Brazil to check out Semco, where workplace democracy is the name of the game. We will travel to Rojava, to explore life in a democratic army, and head to Spain, to see why Podemos is giving liquid democracy a go. We shall travel back in time, to see democracy at work in hunter-gatherer societies, tribal confederacies, the guilds and on the commons. We will consider the case for participatory budgeting, deliberative democracy, collaborative hiring, community currencies, peer-to-peer lending, and much much more.
The message is clear and concise: Democracy does not have to be a pipe dream. We have all the tools we need to rule ourselves.