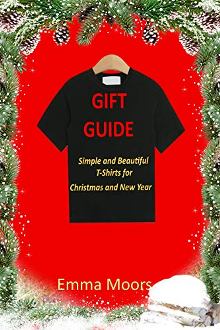 This mini-book will bring the greatest benefit to those people who could not pre-purchase gifts for Christmas and New Year. If you have to buy gifts at the last moment - this mini-book will greatly save your time, money and your efforts. Here are the best examples of gift t-shirts this season.
You will need about 5 minutes to scroll through this catalog, make a choice and immediately make an order using active links. The prices are very comfortable and the quality is excellent! Delivery is carried out from the USA, Great Britain and Germany to almost all countries of the world.
All the offers in this book are grouped by country where there are delivery points and this will help you quickly navigate using the interactive table of contents.
Leading designers and fashion designers have kindly provided their best print jobs upon request on T-shirts and sweaters for our book. And the compiler-author Emma Moors  put together all the proposals in the best way to ensure a comfortable viewing and gift selection.
A nice bonus in the first chapter of this book is the clear recommendations of psychologists for the right choice of gifts for various occasions, depending on the status of the person in your environment. I am sure that these tips will always be of help to you. And in the last chapter - active links to vintage designer t-shirts of several successful brands that are developing. This chapter will introduce you to new designs on various topics in addition to the catalog.
So, your actions right now:
1. Read the recommendations of professionals about choosing a gift,
2. In the table of contents, find the chapter with the country of delivery that you need,
3. Browse through the compact collection of gift t-shirts and choose what suits you,
4. Make an order using the link on the same page where the gift you have chosen is located.
It's all! Your order has already been sent to processing and in the near future you will receive it from Amazon.
We wish you all a good mood and a merry Christmas!