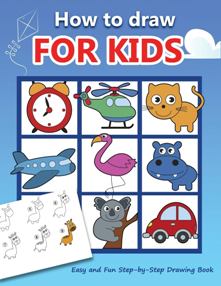 This is a fun and easy book for kids with step-by-step drawing lessons that will help your child start drawing and inspire creativity!
There are 50 funny and cute pictures for your child to draw!
How to Draw Book for Kids includes:
-Pictures with different difficulty levels from beginners to advanced
-Easy to follow step-by-step instructions on how to draw
-Diagram for every picture showing how to draw different animals using simple basic shapes, such as circles and squares
In this book, you will learn How to Draw:
Cute animals including pets, farm animals, and wild animals
Means of transportation including car, plane, boat, and locomotive
Fruits, vegetables, flowers
Household items
and other funny and cute things!