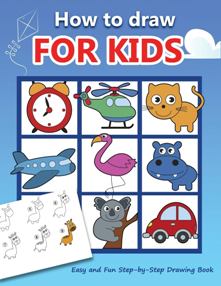 This is a fun and easy book for kids with step-by-step drawing lessons that will help your child start drawing and inspire creativity!
There are 50 funny and cute pictures for your child to draw!
This book gives you basic instructions on how to draw: you draw basic forms, add more and more details, and finally get a finished picture!
How to Draw Book for Kids includes:
- Pictures with different difficulty levels from beginners to advanced
- Easy to follow step-by-step instructions on how to draw
- Diagram for every picture showing how to draw using simple basic shapes, such as circles and squares