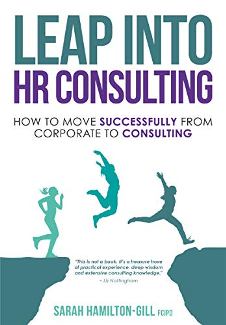 A Highly Acclaimed Book With Over 55 Top-Rated 5-Star Reviews & a Finalist in the Business Book Awards 2021-HR Category!
"Leap into HR Consulting: How to move successfully from Corporate to HR Consulting" by seasoned HR consultant Sarah Hamilton-Gill FCIPD is all about taking risks — SMART ones.
The world of work has changed since COVID-19 and most of these changes are here to stay. Who says you can't ride the tides and carve a better path with the added benefits of flexibility, high incomes, and professional prestige?
Learn all the insider secrets distilled from Sarah's 27 years in the business, including:
Using practical tips on how to market your business and tap into wider markets
Defining your niche and cultivating a strong network of your IDEAL clients
Fostering strategic collaborations and applying income growth strategies
And more!
"It will challenge you to take the leap of faith… but it won't leave you just jumping off a cliff, instead it will give you the tools you need so that you reach new heights." — Sue Benoke, Managing Director at Smarter Business Consultancy LTD