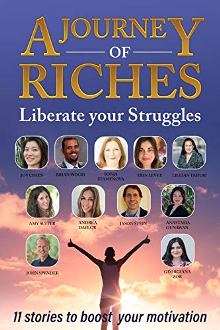 Are you ready to overcome the obstacles on life's path?
Do you want to start living each day on your own terms?
Do you sometimes need motivation to help you continue in the face of adversity?
We all face certain challenges in life as we negotiate our way towards our dreams and goals. Some may seem trivial, while others may look to be insurmountable at first glance. But whatever you face on your personal journey, it is more than likely that someone else will have been there first. And, more than likely, they may have found the answer.
In this book, A Journey of Riches: Liberate Your Struggles, an assortment of fine authors impart their own insights into the questions they were faced with and how they overcame them, in a way that will undoubtedly spark creativeness within your own mind and perhaps reveal the answers you've been seeking for yourself.
From the incredibly perceptive Georgiana Zor, to Andrea Daylor's astonishing honesty and acceptance, each story is peppered with encouraging quotations from some of the most prominent thinkers and successful people the world has produced.
Get a copy now and see where your life's path will take you!