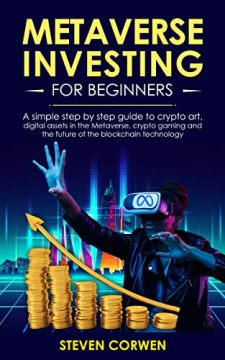 Discover the Fundamentals and Principles that Will Make You Fully understand the Metaverse and how to invest in this new technology!
Nowadays the metaverse is one of the most talked about topics ever and knowing what it is and how it works means having precious knowledge to exploit.
Being one of the trending topics of the moment, there is a lot of confusion about it and it is difficult to find really useful information on the internet for your cultural growth.
Furthermore, knowing what the metaverse is can open up many opportunities for investment.
Would you like to learn what the metaverse is and how you can invest in digital assets? If so, then you are in the right place.
This book is a step-by-step guide that will teach you in an easy and comprehensive way, what the metaverse is, how to invest in digital assets, crypto games, crypto arts and how the blockchain will be used in the future.
I want to show you some of the things that we are going to cover together in the book so that you can better understand what we are going to learn.
Here is just some of the topics we will touch together:
● The Metaverse
● Blockchain and Cryptocurrency
● Investing In Metaverse
● The Future
● Much more
If you want to become knowledgeable on this specific topic in no time, all you have to do is follow the advice found in this book. So what are you waiting for?