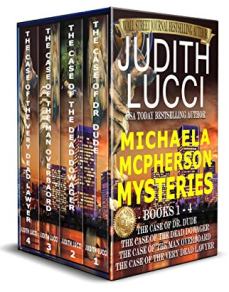 From USA Today and WSJ Bestselling Author, Judith Lucci!
The Michaela McPherson Mysteries
"Two Sleuths and a Dog on the Case"
A crime thriller series featuring an Irish retired homicide detective Michaela McPherson, her friend, octogenarian Italian Countess Dorothy Borghase and Michaela's life-saving, retired police partner, canine Angel. The series is set in Richmond, Virginia. Books are focused on current-day events and social issues that include human trafficking, terrorism, disease outbreaks and biological weapons.
What's Inside?
The Case of Dr. Dude
The Case of the Dead Dowager
The Case of the Man Overboard
The Case of the Very Dead Lawyer