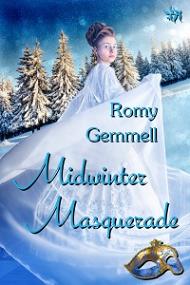 Young widow, Lady Lenora Fitzallan, departs from Edinburgh in 1816 after accepting an invitation to the Scottish country estate of Edward Montgomery, the man she once thought to marry seventeen years previously.  Accompanied by her godmother, Lady Pettigrew, Lenora meets Edward's young niece and ward, Annabelle; a young girl on the threshold of love - in between getting into scrapes.
Before the Masquerade Ball on the Winter Solstice, a new guest arrives whom Annabelle distrusts at once. Meanwhile, Lenora struggles with her rekindled feelings for Edward, while thinking of Robert Masters, an admirer who is on business in India. As secrets begin to unfold, Annabelle is rescued and a dashing, costumed stranger arrives at the Ball.
But Lenora must decide where and with whom her future now lies.