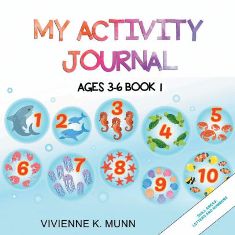 Age range: Preschool to Grade 1 [3 - 6-year-olds]
Purpose: Learning word building skills, fun games, colors, shapes, and much more…
Inside are a creative development of basic skills in addition, and ABC's.
There are many; new activities, matching sets, and recognizing numbers, and letters. Games, puzzles, and brain teasers; all help with ways to learn, Numbers, Colors, and Letters!
Engaging material to help and keep young children busy with fun ways to 'Learn and Grow'!
Ensure that your child, niece, nephew, or a neighbor's child are ready before schools begin. Pick–up a copy help enhance the child's learning skills. Safeguard that the child is up to speed before and after school to begin.