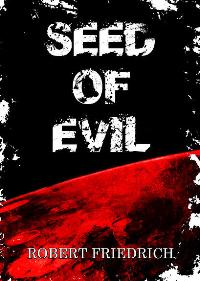 This book was in production for 10 years, really proud to have it out in both digital and paper.
THE SAGA OF EVIL BEGINS…
From a distant galaxy far beyond our time, the most ancient of all EVIL awoke before descending upon our unsuspecting galaxy. The planet it reached never faced such a threat, but didn't submit to it, either. In a final attempt to survive, a prison between dimensions was built, the last hope to hold the DARK POWER for an eternity. The planet withered and died, and its people found a new refuge among the stars. That planet is now known as: Mars.
But even eternity doesn't last forever. Ignorance and an infantile arrogance of a nation leads to its release. And once again, it only leaves death in its wake.
Read the fast-paced Sci-Fi/Horror, where the elements of OCCULT meet with an advanced MILITARY thriller, wrapped in a colossal battle between good and evil.
The first part of a new, long-awaited Saga, from the internationally renowned author of "The Darkness Within" will give you a gulp of a SMASH HIT and will leave you wanting more…
Reviewed by Barbara Garcia for Readers' Favorite
Seed of Evil: An Ancient Evil Rises by Robert Friedrich takes place in the not too distant future. The moon and Mars have both been colonized, and are being mined. The mining team on Mars has uncovered a structure of non-human origin, and in the process of studying it, have inadvertently released a horrifying evil. Now contact has been lost with the colonists on Mars, and deciphering a corrupted message indicates that something has gone wrong, but no one is prepared for just how terribly wrong. Corey and his elite team of Marines are brought in to investigate, and are confronted with this evil almost right away. As his crew is picked off one by one, Corey finds himself alone to battle the evil that's been unleashed. It's an ancient evil with immense power, but Corey gets some help from an unexpected source.
Seed of Evil: An Ancient Evil Rises by Robert Friedrich is a fast paced story, but I never felt overwhelmed or rushed through it. Narrated by Corey, I easily got a good sense of who he was, and with good world building and nicely descriptive combat scenes, I was quickly immersed in this story and was rooting for Corey all the way. Being a Marine, Corey kept his cool fairly well when confronting the spawns of this evil, but I was a bit creeped out just envisioning the bloody mess all those bodies made, and most definitely when he had to face the winged creature with all the heads on it. I recommend this book to anyone looking for a quick read packed with action and a spooky sci-fi kind of feel.