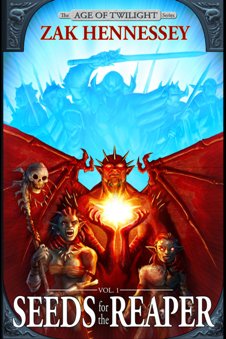 The thengati hunt and eat humans. They've done so for hundreds of years. Savage brutes, powerfully muscled and warlike, they rule the dark places of the land.
But the survivors have been learning and adapting. Uniting the scattered human clans, they've become stronger, more cunning. The people of Claremont have risen to their feet, screaming defiance at their tormentors. Using hard-earned strategy and superior weaponcraft, King Brenard of the noble Mont-Callahie bloodline has begun turning the tide. Humanity struggles to rise; the thengati rage to keep control. Their blood will mingle in great rivers before the end.
Chataka of the thengati has seen the doom creeping toward her people, but the great chiefs refuse to listen to the words of a rebellious woman who is unable to breed. Cast aside, her quest for answers leads her to a tower of black glass in the haunted lands and offers a pact with an ancient demon from beyond the veil. The consummation of that pact could shatter the fledgling human kingdom and return the thengati to dominance. If she can get her people to listen. And if they act before the amassed human army attains its revenge for centuries of pain and terror.
The seeds are planted, and the Reaper prepares for a bountiful harvest.