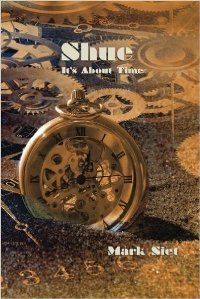 There will never be another Shue.  He is a one time cut of a mold that was fashioned in the most secret places of the time stream.  It is Shue alone who can solve the problem of this world and of the many continuum's we are surrounded by.  Call him a universal handy man who takes to problems like a carpenter to his tools of trade.

It was hard to know where to begin when telling Shue's story since finding a beginning all depended upon the relative appearance of Shue in any given moment of time.  Were we to go back in time we would find him in one guise or another accomplishing the improbable.  Forward too we would see many versions of Shue, all with one thing in common; that is an ability to solve every problem flown his way.
Shue is however most impressive in the now, in the moment of working out a solution so perfect and complete that it leaves us stunned with not only the results but also as well with the simple execution of his plan.

In general Shue however does not come up with a plan until the exact moment when he needs to implement it.  It is not as though he sits around thinking of contingencies for this or that.  Once the problem manifests itself and Shue is made aware of it, a plan comes forth right there on the spot.

It does help that Shue has an impressive array of super skills in a wide variety of areas including computers, software, encryption, all the sciences, self defense, business, etc.  You get the idea.  Shue is not just a jack of all trades and a master of none.  Shue is a consummate master of everything he sets his mind to.

If you have ever been able to imagine perfection then you would have to include Shue in those imaginings.  Whether it is playing baseball pitching a perfect game, or hacking a computer system so thoroughly that Shue is the only one who knows it is compromised.  Or perhaps thwarting an international terrorist plot so that the terrorists sympathize with Shue and turn from their evil ways or helping a homeless man find shelter, Shue applies the right principles and achieves a perfect response.

Now you might think that such a man of perfection would be boring but nothing could be further from the truth.  Shue has style, panache and a bit of a wry sense of humor.  You know he will triumph and yet you marvel at the details shaking your head and saying along with anyone who has ever met him, "that's Shue!
One of Shue's admirers once remarked about him, "It was the damnedest thing I ever saw.  I couldn't believe it was happening and then when it was over and the situation was well in hand I had to smile.  I mean it was Shue so I expected nothing but perfection; still to see him in action was a thing of beauty to be a part of."