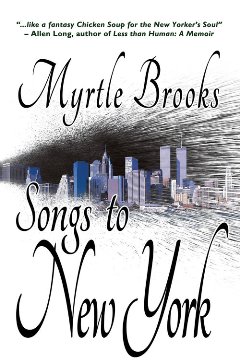 Songs to New York is Author Myrtle Brook's love affair with the Big Apple served in ten slices: literary fantasy short stories on extraordinary events occurring to everyday people in the five boroughs. "The Sanctity of the Mails:" observed in Heaven via the Brooklyn Post Office. A Staten Island-raised engineer who escapes city living, only to find the city inside himself. A Manhattan West Side cat who rides a bicycle, whose presence effects a transformation within his community. The unique bond between a little boy and an earthworm in the Bronx. A mysterious floor in a Queens apartment building reachable through attainment alone.
The city comes to play in the lives of her people as do the people in the life of the city. In Songs to New York no line is drawn between the two. Absent of cynicism, the stories show mankind at its best in the face of such adversities as poverty, drug addiction, psychotrauma, loss of loved ones and of perspective. The answers are positive and uplifting.
Likewise, the city, too, is an entity who speaks for herself.
The characters from varying ethnic backgrounds and walks of life reflect the essence of New York and what she stands for: that you don't have to be of any social status, position, race or nationality to experience a miracle in the city of miracles.
"A fantasy 'Chicken Soup for the New Yorker's Soul.'" -Allen Long, Author of Less than Human: A Memoir.
"Stories to warm the heart and stroke the imagination, lyrically told, reminding you why you love being a New Yorker or leaving you wishing you were." -Mary Ellen Bramwell, Author of The Apple of My Eye, When I was Seven.