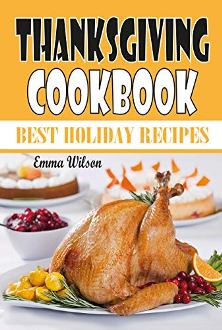 This brilliant Thanksgiving cookbook is loaded with delicious, easy-to-cook holiday recipes to make your special Thanksgiving dinner even more delightful.
Your potential Thanksgiving table may include:
•    Butter Turkey, Spicy Citrus Turkey, or Roasted Turkey with Mushrooms (there are a lot of turkey recipes to choose from!);
•    Traditional Cranberry Sauce, Cranberry Salad, and a new take on cooking green beans (check the recipes!);
•    Cinnamon Pumpkin Pie, Ruddy Pumpkin Pancakes, and even Pumpkin Sandwiches with Sausages (and more pumpkin recipes)
•    Corn Casserole, Yummy Corn Pancakes, Corn Salad…
•    Various Thanksgiving drink recipes    
There is something for everyone in this special collection of Thanksgiving recipes.