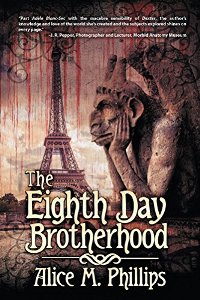 In Paris, 1888, the city prepares for the Exposition Universelle and the new Eiffel Tower swiftly rises on the bank of the Seine. One August morning, the sunrise reveals the embellished corpse of a young man suspended between the columns of the Panthéon, resembling a grotesque Icarus and marking the first in a macabre series of murders linked to Paris monuments.
In the Latin Quarter, occult scholar Rémy Sauvage is informed of his lover's gruesome death and embarks upon his own investigation to avenge him by apprehending the cult known as the Eighth Day Brotherhood. At a nearby sanitarium, aspiring artist Claude Fournel becomes enamored with a mesmerist's beautiful patient, Irish immigrant Margaret Finnegan.
Resolved to steal her away from the asylum and obtain her for his muse, Claude only finds them both entwined in the Brotherhood's apocalyptic plot combining magic, mythology, and murder.