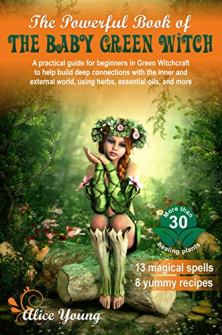 Do you feel that there is something missing in your life? Does the modern world make you feel empty, stressed and overwhelmed?
You are not alone. Many people across the globe are discovering the fascinating world of green witchcraft. It is the perfect antidote to our hectic lives, bringing us closer to nature and to the core meaning of life as our true and authentic selves.
In this intriguing book, Alice Young takes the reader on a voyage of discover through all the many aspects of green witchcraft that can change your life for the better. You too can learn how to get a deeper connection with nature and how to harness its magical powers to improve your life.
In this comprehensive guide to green witchcraft, you will learn:
-    How to use herbs and the power of the elements to heal and transform your life
-    How to undertake rituals to cleanse the body, mind and soul
-    How to harness the nature powers to live a meaningful life
Also includes:
-    A brief history of witchcraft
-    Step-by-step guides to setting up an altar and creating your own magical garden
-    A list of potions, recipes and spells to bring the many benefits of nature to life
Discovering the world of green witchcraft will change your life. Take the first step to becoming a Baby Green Witch by reading this captivating book now!