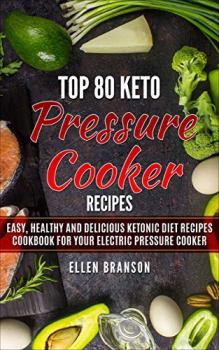 Are you trying the Ketogenic Diet?
Looking for new ideas and unique recipes?
Good food and easy cooking are a combination rare to find anywhere. If you are a foodie who enjoys a healthy diet and cooks more often at home, then the pressure cooker is your best shot. Where it allows quick cooking with complete ease, it also gives us a range of options to enjoy with the best of the ketogenic meal too. With the idea of bringing flavorsome keto recipes, cooked in the multipurpose pressure cooker, the "Top 80 Keto Pressure Cooker Recipes" can help you experience the convenience this appliance has brought to the kitchen counter.
What does this book offer
Basics and Benefits of a Ketogenic Diet
Basics and benefits of using a pressure cooker
Top 80 new keto recipes for your pressure cooker!
Colorful pictures for each recipe for ebook

Including:
10 breakfast recipes
5 starters
10 soups
15 meat recipes
10 seafood recipes
10 poultry recipes
15 vegetarian recipes
5 desserts!
The book extensively covers routine and festive meals with complete diversity. So whether you are in the mood to enjoy a bowl of keto soup or want a refreshing start in the morning with a ketogenic breakfast, then the book can rescue you with its distinct and inspiring recipes. And before actually getting to the recipes, this cookbook sets up the stage to give you a clear understanding of both the diet and the pressure cooker.