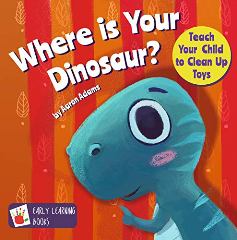 Do you have toys all over your house?
And you do not like it, but you do not know how to teach a child to clean up toys?
My book will help teach your child to clean up toys and don't to leave them scattered throughout the house.
Introducing Dinko a friendly dinosaur belonging to little Jack. Join Dinko as he tries to make his way home, back to his toybox. Jack often forgets to tidy up his toys and on this occasion, he loses his favorite dinosaur.
• Cleverly teaches children to tidy up their toys.
• Dinosaur books for kids 3-5 years old.
• Uses modern toys within the story that children will recognize.
"Say 'Hello' to Dinko boys and girls.
Dinko is a friendly dinosaur who belongs to a boy called Jack.
He is a small dinosaur with a big problem; Dinko cannot get home.
Do you know why the little dinosaur cannot get home?
Because Jack has gone to bed and left Dinko out of the toybox.
The dinosaur looked across the room toward his home.
…"
Does Dinko find his way back home?
Does he make it safely away from Tyler the tiger and all the various other toys?
Read new dinosaur books "Where is Your Dinosaur" today to find out more.
+Bonus inside! ;)