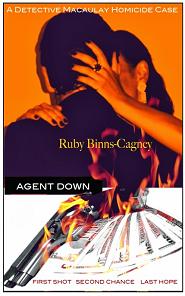 First Shot. Second Chance. Last Hope. 
Always bet on black.
In Las Vegas, at the "Treasure Island Hotel and Casino" on the Strip, Stanley Tulloch was about to have a bad day. He just stepped out on his lady with a younger broad, and now the broad is dead.
Stanley is in the frame for the broad's murder, and he has no alibi. Everything changes in the roll of spin of the dice.
NYPD's Detective Sergeant Finkel Macaulay flies to Las Vegas on a mission to help an old love solve his wife's disappearance, off-book.
When the suspect catches the scent of Macaulay's arrival in Las Vegas, the body count increases and Macaulay has to choose between escaping her past, or going back to her troubled marriage.
As the FBI's Special Agent in Charge of International Operations, Nick Benson is on the trail of a suspect who exacts revenge on an innocent, unaware the case brings him hurtling towards Macaulay's case in Las Vegas.
With just 24 hours to prove his suspect is innocent, Nick uses all his resources to establish motive, means, and opportunity for the real suspect to commit the perfect crime.