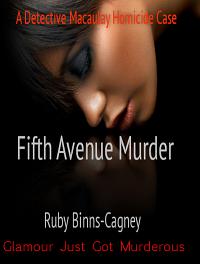 Sex. Betrayal. Murder.
Fifth Avenue Murder.
Glamour Just Got Murderous. 
From the Author of 'The Detective Macaulay Murders Trilogy' and 'Pandoras Box' comes a new thriller.
New York Fashionista Revanna Brightmore-Edwards has everything she wants from life.
A wealthy husband.
Private jet to vacation at the house in St Barts.
Her own Couture Fashion Empire 'House of Revanna' and
her Spring/Summer 2014 Collection prepped for sale at Saks Fifth Avenue's flagship Store in New York City.
Yet Revanna is unhappy with her life, and seeks out illicit passionate trysts with New York's elite.
When Revanna vanishes from the Couture dressing rooms at Bergdorf Goodman and a dead body is discovered at her mansion in East Hampton, NYPD's homicide Detective Macaulay investigates. With little assistance from Revanna's family Macaulay turns to a friend and opens up a world of hurt for Nick.
As Macaulay's homicide investigation gathers pace her marriage is threatened as she uncovers horrifying dark truths which put her life at risk.