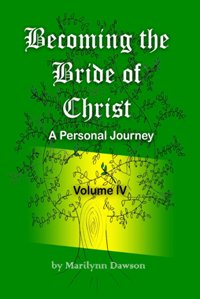 "I was recently reminded of why I choose to lose myself in moments of praise and worship regardless of my circumstances. It is only when I take my eyes off what is going on around this home and put them on Christ, that I can engage in and experience feelings of joy, gratitude and love, and seek to touch my Lord's heart. It is so comforting, so reassuring and so quieting, that God overlooks what seem to me to be such faltering, failing attempts to love those around me, and yet seek to love me Himself in such incredible ways."

This book can be read as an account of the lessons God's actively teaching me, or it can be engaged in as a personal or group Bible study.

There is quite a bit of Scripture in every chapter, as well as questions to help a person appropriate these lessons into their own life.

One of my goals is to share a story that men as well as women can read and glean from. Too often it seems presentations on the Bride of Christ have been geared toward women when Scripture says the Church, who is referred to as the Bride of Christ, is made up of men and women. I write from a women's perspective of course, but it's my desire that men will be able to gather helpful insight, not just women. After all, we are all called to live out the commands of Christ in our everyday life.

Will you join me as we learn to live this journey of Faith as the Bride of Christ in everyday life?