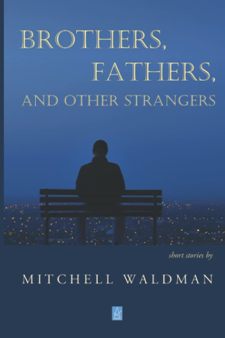 A short story collection about family dysfunction in a not-so-melded family, work, Adolf Hitler's alternative lives, and possible reincarnation, the spirit of Kurt Cobain, an angel giving an alcoholic men a chance at redemption, men seeking meaning in their lives beyond work and about God and faith.
You'll also find stories regarding how a moment suspended in time can change one's life forever. And stories of people living lives of desperation and those desperately seeking better lives, looking for answers for what has happened to get them where they are.
In all there are 40 stories and flash fiction pieces in this  collection, many of which have been published in literary magazines, such as Short Story Town, The MacGuffin, Down in the Dirt, Five Fishes Journal, Foliate Oak Literary Magazine, Random Sample, The Waterhouse Review, The Piker Press, Crack the Spine, Milk Sugar, Kairos Literary Magazine, Corvus Review, Ginosko Literary Journal, Greensilk Journal, Fictive Dream, Litsnack, Spelk, Literally Stories, The Flash Fiction Press, The Fear of Monkeys, Crack the Spine, Baby Lawn Literature, Eunoia Review, Writing Raw, The Legendary, Fiction on the Web, Furtive Dalliance, and Scarlet Leaf Review.
WHAT PEOPLE ARE ALREADY SAYING ABOUT BROTHERS, FATHERS, AND OTHER STRANGERS:
Waldman has crafted a nuanced and engaging collection. His stories set us on an emotional tightrope, daring us to forgo a safety net, while seducing us to look down and discover who we are. Sometimes poignantly devastating, and other times savagely funny, he guides us through family trauma, corporate America, and faithful understanding to remind us if we can be less of a stranger to the world, maybe we can be less of a stranger to ourselves.
 -- Josh Penzone, author of The Court of Vintage Woods: Linked Stories
Mitchell Waldman's latest collection comes in three parts. First, there are stories of a blended family narrated by a stepbrother and stepson with either the urgency of a teen or the retrospection of an adult. They probe a fraught relationship with a stepbrother, detachment from a stepfather, and disengagement from a biological father. The narrator's mother provides only a small measure of consolation from the bleakness. Taken together, these stories constitute an episodic novella working out permutations of awkwardness, disappointment, baffled love, and open resentment. Waldman persuasively renders the insecurities of his narrator and the pain of blended families that fail to blend. The style here is realistic while the second section leaves realism for a series of alternative biographies of Adolf Hitler—as an immigrant in Brooklyn, a local plumber, gardening with Fraulein Braun. In one story, Hitler occupies the consciousness of a Jewish dentist as he did Poland and France. Part Three is focused on the quiet desperation of economically marginalized, socially alienated, emotionally stunted males. Two main themes of this section are bad jobs and theodicy, the implacable actual and the dubious supernatural. The stories delve into the feelings and thoughts of alienated men, the kind of American males fulminating with resentment and teetering on the cusp of despair who have had much to do with our recent politics. Brothers, Fathers, and Other Strangers is remarkable for its scope, honesty, imagination, social sensitivity, and moral concern.
  -- Robert Wexelblatt, author of The Thirteenth Studebaker, Hsi-wei Tales, etc.
In Brothers, Fathers, and Other Strangers, Waldman explores masculinity, but not stereotypical masculinity. In these stories, you will see men battling their memories and emotions as they attempt to come to grips with their pasts and make a way for their lives. Waldman sets his work in reality with a dash of fantasy and the occasional twist ending. Waldman is doing something special in the short story form, and his stories will entertain, enlighten, and elate.
 -- Hardy Jones, author of Resurrection of Childhood: A Memoir, and  Every Bitter Thing
Nothing matters anymore. Nothing." So begins one story at the heart of Mitchell Waldman's outstanding new short story collection, Brothers, Fathers, and Other Strangers. Fortunately, everything matters in Waldman's book of stories featuring boys and men who might optimistically be described as "having a tough time." Waldman has crafted a collection in which each story shines like a beacon on a string of interconnected lights. At a deep level, every moment in these matters a great deal. Every scene, every action, every conversation carries the weight of the world—most of all, every character.
The men in these heartfelt stories experience a kind of sandpaper empathy for the people and events around them. At best, they have a rough understanding of why they are who they are. These men struggle, sometimes miserably, sometimes humorously—often both. Waldman's greatest skill is that he transfers his characters' gritty empathy to his readers, letting us care for these men as their lives swirl around them.
These stories lend themselves well to comparisons with some of the greats of modern short story writing. Two clear progenitors would be Raymond Carver for existentialism and Charles Bukowski for emotional tone. Among contemporary short story masters, Michael Keith's sad-boy mortality and Robert Scotellaro's craggy disquiet make great companion writers for Waldman's universe of complicated and unsettled characters.
While men's experiences are central in the book, women aren't absent. Appropriately, the women who appear in these stories are equally troubled by life. They aren't relegated to stereotypes such as mother-substitutes or objects of desire. Most important, the men's problems aren't contrived to be the fault of women, as too much male-focused American literature has done at its worst. The insight that men are, for better or worse, the shapers of our own fate is another notable strength of this excellent collection of connected stories. -- John Sheirer, author of Stumbling Through Adulthood