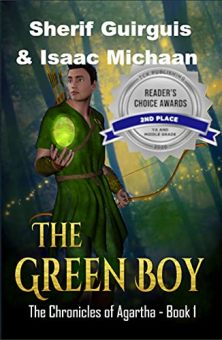 - Winner of the TCK Reader's Choice Awards, Second place -
The fate of two worlds rests on the shoulders of a few unsuspecting souls, and it all begins with the journey of a boy who wants to find the truth behind his own existence. - From the prophecy of colors, Agartha, 1050 B.C. -
Enter Inner Earth, Agartha, a land where the color of your soul's Aura defines you.
Ethan, a fourteen-year-old young man, discovers he has a green aura, the last of an extinct race. He leaves the secret school of Nafoura in search of the truth of his own origins, in a desperate search to find a home to call his own.
Joined by a girl from our earth, Mara, and an exiled shapeshifter, Darren; Ethan must seek the Chronicler of Agartha, a mythical being rumored to have all the answers.
But there is another who is chasing them doggedly, the woman who killed off the green nation, Ethan's people, and she has placed a huge price on Ethan's capture.
Unaware of the reward for his capture, Ethan rushes forward to his destiny, inadvertently stepping into the web on an ancient prophecy, one that might spell salvation or doom for his and our world.
Will Ethan achieve his goal, or will he doom two worlds in his quest?
If you liked the Golden compass, you will love The Green Boy
Read The Green Boy to find the answers to this fantasy mystery Today.