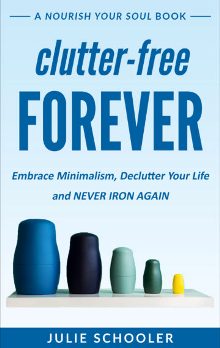 Is your home filled with stuff and you want to declutter but not sure where to begin?
This practical and easy-to-read book provides an adaptable game plan to declutter your home and your life once and for all.
There is guidance on how to organize your remaining things, tips on changing your consumer behavior so you can keep your house in order and an entire chapter devoted to alternatives to throwing unwanted items in the trash.
You can embrace minimalism in the best way that suits you and your family. In fact, decluttering can be easier, less time consuming and more fun than you think.
This refreshingly non-judgmental book includes tips on:
- Deciding what to do with unwanted items: donate, sell, give away or trash
- Reducing your consumption going forward by hiring or not purchasing at all
- Embracing minimalism in other areas of your life including a digital declutter
- Making decisions about kids' artwork, old photo albums and that unsightly vase left to you by your dearly departed grandmother
Follow the advice in this book and find the real you—the one that you know is in there but has been drowned by all your stuff.
To gain your life back, grab a copy of this book today.