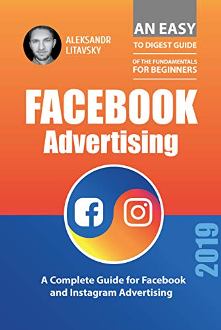 Do you want to make profit with Facebook Advertising and to learn how to raise your audience within 2,27 billion monthly Facebook users, read on!
The book will help you in attracting potential customers for your business by giving you a fundamental knowledge on Facebook Ads and how it works in 2019 (Read on to learn how to get this Kindle book free!)
The author of the book is a Social Media Marketing specialist with 5000 hours and 250k dollars experience in performing Facebook Advertisement and lead generation.
This Facebook Advertising book will give you an understanding on the basic Facebook Marketing facts that you need to know first when doing effective online advertising for business such as:
•    How to create and setup an Ad account,
•    How to choose the right objectives and audiences for your Ads,
•    How to setup Instagram Advertising
•    How not to lose money on inefficient Ads
•    How to fix possible issue in Facebook Advertising
The book will provide you with step-by-step guide that will help you to scale your business online and make it more profitable.
Moreover, tips on operating the Ads effectively for your business will also be covered in this book. This will serve as a manual for you when you are performing your own digital advertising.
However, the book will not cover several topics that are too complex to be discussed.
Since some of the settings on creating Facebook advertisement are too complicated, the book will only discuss the easiest and fastest of way making more profit for your business by using advertisement on Facebook.
And all this you get for the price of a cup of coffee.
And you can still get this Kindle book for free since it is enrolled in Kindle Matchbook program. The book will be available for free when you purchase the paperback version from Amazon.com