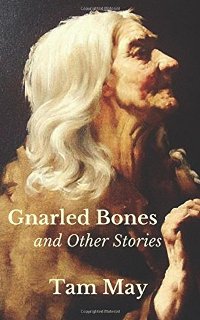 Gnarled Bones and Other Stories is a collection of five short stories where strange and spooky events affect people's lives in ways they could not have anticipated.
A newly divorced woman goes back to school to begin a new chapter of her life only to find herself circling back to where she started. A mailroom secretary and her friends spend a day at the circus where childhood nostalgia mingles brutal fear. A lonely woman ventures out of her isolated apartment one quiet Saturday afternoon to an art exhibit that leaves an eerie imprint on her psyche*. A middle-aged violinist reveals the mystery behind his declining artistic powers to a stranger on a train. And the title story weaves journal entries and first-person narrative to paint a picture of the complicated bond between an orphaned brother and sister.
These stories leave an impression of how the past shadows the present and future.
* This story was featured on Whimsy Gardener's Storytime With Whimsey and can be found here: https://www.youtube.com/watch?v=PW9mgw4qhuA.