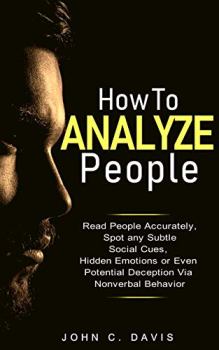 Would You Like To Have that Upper Edge When It Comes To Negotiating And Influencing People?
If yes, then keep reading…
Whether you are dealing with your partner whom you suspect for cheating, or a work colleague who might have tried to undercut you in a deal, the ability to read people accurately will ALWAYS be your #1 tool in helping you get your facts right.
 - Feeling Uncomfortable Around Strangers
 - Struggling with Choosing the RIGHT People Around
 - Problems with Identifying Manipulative Behavior
 - Communication Insecurities
 - 'Awkward' Display of Emotion
just to mention a few...
Do you want to know what all of these previously mentioned issues have in common?
You guessed it?
It is the same ROOT problem that is causing them: lack of people analyzing skills and managing own unconscious expressions.
Here's just a tiny fraction of what you'll find inside:
 - Spot the Liar IMMEDIATELY: 5 Foolproof Signs You Should Always Be Aware of
 - Discover The Surprising Psychology Behind a Fake Smile
 - Are You Being Manipulated? How To NEVER Be Fooled Again
 - 10 Simple Cues you Should Be Looking For in Your Next Social Interaction
 - The Truth about Identifying Underlying Needs
 - Discover Exactly What YOU'RE Giving Away with your Face
 - Learn How this #1 Exercise Can Help You Correct Your Unconscious Flaws
 - How to Ensure Your Facial Expressions Don't Give You Away
and much more ...
Your ability to analyze people has a great Impact on the manner in which you shall deal with them. As you get to understand the other person's feelings, you get to adapt your message and begin communicating in a way that yields the maximum results possible.
Would You Like to Know More?
Get started right away and discover how to read anyone's face and reveal the underlying truth in whatever they tell you. Learn valuable insights about the psychology of human behavior.
Make Progress as of Today and Get your Copy Now!