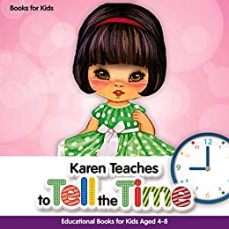 Karen Teaches to Tell the Time is a learning book for kids that teaches how to read the analog clock. It contains a detailed description of how the clock's hands work, what they mark as well as a bevy of examples. This book will teach your child to tell the time in no time, even without a smartphone at hand.
Karen does a lot! Today she is turning eight and she is going to celebrate her birthday with her friends Helen and Lizzy. Since this is a very special day, she will share with you all the highlights. Karen is a warm-hearted girl and she will show you how she makes invitations, dresses up, bakes a cake, and takes her beloved friends to the amusement park.
Simultaneously, she will teach you how to tell the time and express it in different ways. You will not be bored, that's a promise!
Karen Teaches to Tell the Time is a great learning book for children that will be of use to both parents who are willing to teach their children how to tell the time on an analog clock as well as kindergarten teachers. Accordingly, it contains a handful of pictures that can be shown during classes and other activities.