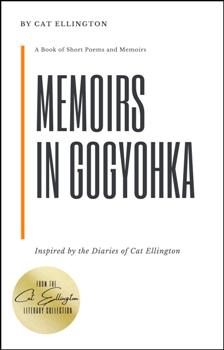 Hot on the heels of More Imaginative Than Ordinary Speech: The Poetry of Cat Ellington comes a riveting and remarkably uplifting compilation of free verse that was erected to witness the uncommon life of its distinctive authorship in the captivating art of Gogyohka poetry.
Introducing Memoirs in Gogyohka, an alluring, albeit double-edged, biographical account inspired by the diaries of Cat Ellington.
Highlighting a selected assemblage of Ellington's random diary entries from the 1980s to the present, Memoirs in Gogyohka provides the reader with a first-hand look into the journals of one of the most compelling women in the arts as it strolls through the courtyards of her many life experiences, including interracial dating, family turmoil, inner-city living, Black-on-Black crime, eroticism, lesbianism, anti-feminism, and much more.
Flanked by Cat Ellington's Prologues and Epilogues, the works of Gogyohka featured on these elegantly decorated pages include "The Ol' Double Standard," "He Called Me 'Baby Golden'," "A Cut Through Bone and Marrow," "The Revelers," "How to Love a White Man," "Right Back Atcha," "The Iceman," "She Flew In On Her Broom," "The Bitch Called Karma," "Amazon Women on the Earth," "Snake Eyes," "Lying and Denying," "Single Black Female," "Serenaded by Kenny G," and many, many more.
Hardly a depiction for the faint-hearted, Memoirs in Gogyohka packs a one-two punch of emotions as it proudly carries the history of its author on the broad shoulders of intrigue, amusement, insight, and admiration, while daring to prove the blessedness of her distinction where the written word is to be regarded.
Poetry by Cat Ellington. Unconventional beauty.