It's the most wonderful deal of the year
A holiday gift set, a glorious duet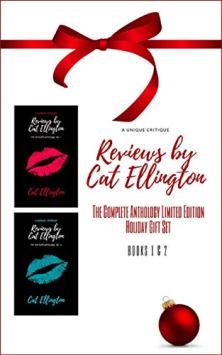 To bring you good cheer
It's the most wonderful deal of the year
It has humor and wisdom and staunch criticism
With knowledge you'll find so divine
One and Two are the reasons for this cheerful season
Combined for a limited time
It's the most wonderful deal of the year
Good tidings and Yuletide merriment, one and all!
REVIEWS by CAT ELLINGTON: THE COMPLETE ANTHOLOGY, BOOKS 1 & 2 are now available together in THE COMPLETE ANTHOLOGY LIMITED EDITION HOLIDAY GIFT SET, 2018! Loaded with jollification, this digital stocking stuffer highlights the first 100 reviews from the anthology spanning over 30 years, including Hollywood Wives by Jackie Collins, The Killer Inside Me by Jim Thompson, Rum Punch by Elmore Leonard, Red Dragon by Thomas Harris, The Highwaymen by Ken Auletta, Madame Bovary by Gustave Flaubert, The Judge by Steve Martini, The Face of Fear by Dean Koontz, Boots of the Oppressor by LaMorris Richmond, and many, many more!
So settle down with a glass of eggnog this holiday season, why don't you, and prepare to lose yourself in the analytical creativity of its wondrously original, ever admired, undiluted, pleasantly fun-filled, and incredibly thought-provoking authorship.
Reviews by Cat Ellington. A unique critique.