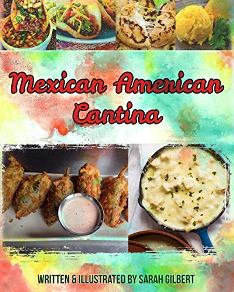 Over 100 unique and diverse recipes that showcase the rich and distinct flavors of Mexican American cuisine.
In Mexican American Cantina, Sarah Gilbert shares her love of everyday Mexican American cooking- bringing popular, well known dishes such as Puffy Tacos, Horchata, Queso Blanco and Baja Fish Tacos along with lesser known, yet flavorful dishes such as Queso Flameado, Flautas de Pollo with Raspberry Chipotle Cream, Birria Tacos and more!
With this cookbook you can make Appetizers, Entrees, Drinks and Desserts that suite your tastes.
Discover how fun and easy it is to create these dishes any day of the week!