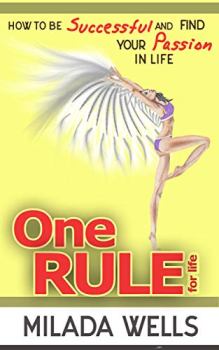 Get the keys to success for finding your passion! Change your life now!
THE POWER OF THE BOOK: You will not find a few pages of motivating text in the book and thousands of questions that you need to answer. All the secret rooms to your happiness will be opened with the true formula for a successful life.
The author found the success formula for life. It works for everyone. The sooner you start using it, the fewer mistakes you will make.
Are you waiting for the next Monday or a special day to change your life?  DOWNLOAD:: "One Rule for Life: How to Be Successful and Find Your Passion in Life."
Happiness is an inner state and only you know what you need to be happy. Anyone who knows how to enjoy life doesn't know what depression is.
There are so many rules of life. But one rule is above them all. Everyone knows this rule, but only successful people follow it every day in a life.
If you are looking something more important for yourself, this book is for you.
Also, the book is an indispensable source of information for teenagers who are still gaining knowledge of the world through their feelings.
You will know:
- how to follow your passion
- how to be effective in life
- habits that will make you highly effective
- how effectiveness develops
- keys to success
- the most important rule for successful people
- two simple ways to find your passion
- find your purpose with the action plan template
- the  perfect formula for a successful life
Your biggest passion is waiting for you to take action.
This book is a great Birthday gift or Christmas gift!