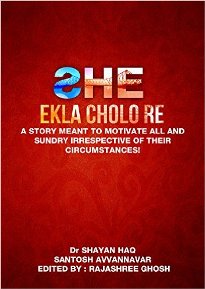 Set in the backdrop of 1990 Calcutta, She is a story about finding one's own identity in spite of all odds. The story spins around the life of Kusum, a brave heart whose identity is often untitled and blurred; it does not belong anywhere, definitely not under the 'he' or 'she' bracket, thanks to our social conditioning. Will she be successful in her mission? Find out in She, an utterly absorbing read that derives inspiration from Tagore's "Ekla Cholo Re" song, which urges everyone to move on despite the fear of abandonment from others.

"She is one of the finest book to read" - Sujeeth Kumar, Project Manager, MNC Bengaluru

"A story often untold. Appreciate the team for presenting She in the best possible harmonious way!" - N K Narasimhan, CEO and Co-Founder, Nascor Technologies, Bengaluru

"Don't miss the ending!" - Raghunath Babu Are, Employee at Microsoft, Bengaluru
About the Authors:
Dr. Shayan Haq: Shayan is a medical doctor and cosmetologist by profession working at Bijapur, Karnataka. He is born at Gaya, Bihar and spent his quality time at West Bengal and Bihar before he moved for higher education. In his free time he loves to drive,
read, watch and discuss on movies, and a gadget freak.

Santosh Avvannavar: Santosh started his career as a consultant and Soft Skills Trainer. After his college education from NITK, Surathkal, he worked as a researcher at University of Eindhoven, University of Twente, and Indian Institute of Science, Bangalore. He was also the Placement President while working at IISC, Bangalore. He has over twenty-five publications of mostly research documents in national and international journals. He has also authored sixteen conference papers and regularly writes articles for a national and worldwide daily paper. He also works as an advisor for different organisations.

He also dabbles in fiction writing and is the author of Adhuri Prem Kahaniya; Dear Wife, Your Husband is not a Superhero, Second Heart and Get a Job WITHOUT an Interview; Be A B.A.; Surrogate Author; Title is Untitled; Black, Grey and White; The Departing Point; God's Table and Umbilical Cord.

He likes to devote his personal time in writing for a website, namely the Amrita Foundation for HRD (www.amritafoundation.wordpress.com). He has conducted seminars and training sessions for more than 45,000 people in India and abroad over the last seven years.