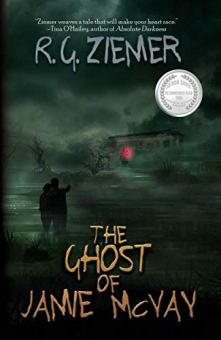 A classic ghost tale in a contemporary setting.
Brian Krueger has a lot of problems: The death of his grandfather and his father's alcoholism have led to hard times and a move to a new town, where his nearest neighbor is a pyromaniac and a bully. Brian runs to escape his troubles, but it's on the gravel jogging path that he encounters the ghost of Jamie McVay.
Brian and his new friend, Sharon, investigate the ghost's origins. Clue by clue, secrets are revealed as the teens discover the truth behind Jamie McVay's quest for redemption. Along the way they must deal with teen issues such as school, sports, friends and rivals. Brian also struggles to reconcile with his father, while facing dangerous Pete the Pyro..
Can Brian and Sharon prevent catastrophe on Halloween night? Will the ghost of Jamie McVay find peace for his unquiet soul?